How to choose a kitchen worktop
Posted on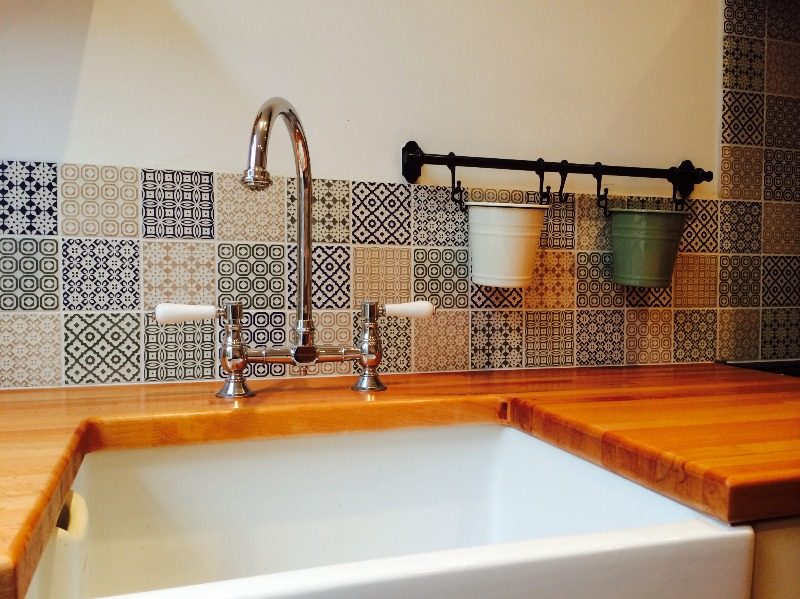 There are a few things to consider when choosing a kitchen worktop; First things first - decide on your budget as this will greatly influence the type of worktop you choose. Secondly, how low maintenance do you want it to be? And lastly, what look or mood or you wanting to create?
WOOD
Wood provides a natural warmth and character and are perfect for both classic and contemporary feel. Choose from oak, maple and beech for a classic style and bamboo, wenge and Iroko for a more modern look.
Bear in mind that because it's a natural material, each piece will vary in grain and tone. Also, wood develops a patina and character with use. It requires some maintenance as it will require regular oiling (at least every three months), but we think the results are certainly worth it.
LAMINATE
Its versatility makes laminate a great choice with an unlimited number of colours and many textures. It is possible to create a different feel in the kitchen depending on which effect you select. Stone, granite and marble effects make a luxury statement and the range of woodgrain effects truly echo nature.
GRANITE
Granite is always incredibly popular, as it is strong and durable. Cooks love it, as its cold surface is perfect for pastry making or tempering chocolate!
Granite is a natural stone and each slab will be unique so, the finished worktop will contain different veining and colour from the samples you see. Despite its strength and durability, it can scratch and stain easily. Use chopping boards for prepping and trivets with hot pans and always check that it's been pre-sealed before installation.

QUARTZ
Quartz is a man-made alternative to Granite. It has a greater colour consistency than Granite and is highly stain and scratch resistant. We would still use chopping boards and protection against hot pans, just to be on the safe side. Silestone have many colours to choose from and currently three different textures: polished/gloss, suede and volcano. There is also the option of having an integrated sink and drainer grooves.
CORIAN
Corian worktops are also man-made with many colours to choose from. This solid surface material is perfect for creating fluid shapes, curves and flowing lines and the colours and patterns are consistent. The joins are invisible, providing a sleek, seamless finish and a colour matching integrated sink can also be incorporated to create the impression of one single piece. This makes it really hygienic, too, as there are no gaps or joins for dirt and bacteria to hide in. Corian also manufacture a Charging Surface. Hidden from view is a transmitter that powers up smartphones, tablets and more, wirelessly. Energy is transferred safely from below the Corian surface, to a smart device – charging stops when your battery is full.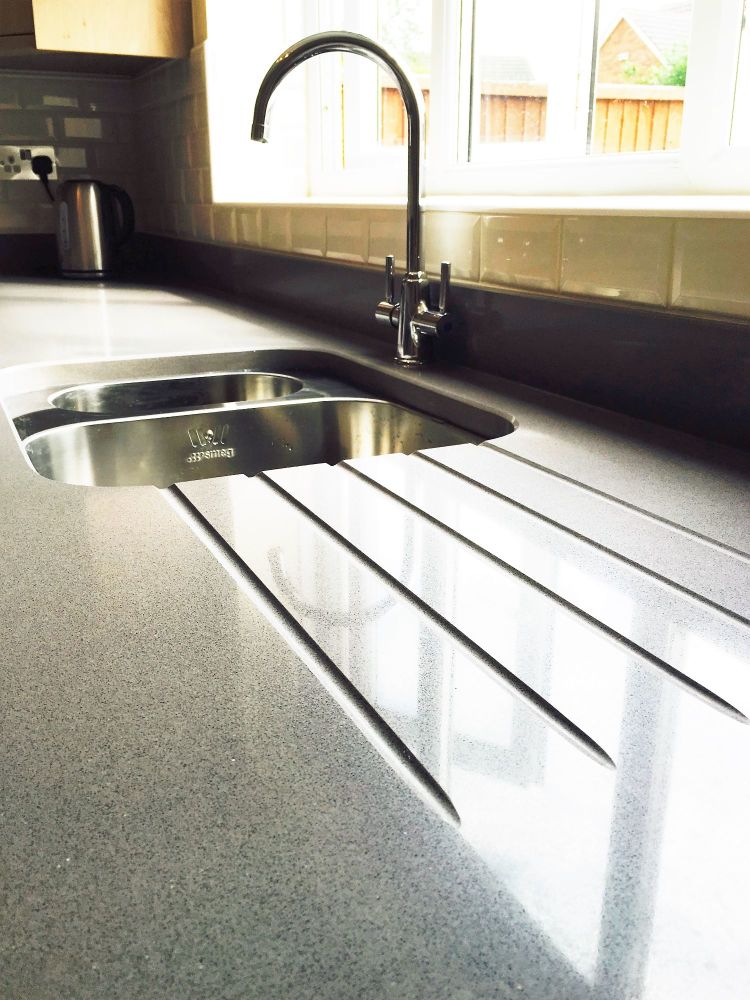 MIX AND MATCH
Mixing materials is a growing trend, adding interest and texture to schemes and preventing the look from being overpowered by one material. It may also potentially help to reduce the cost of worktops. For example, granite is a premium material that comes with a premium price, so introducing areas in timber will not only make a feature in the scheme but may also be more affordable.
TEMPLATING
Whatever material you choose, all worksurfaces need to be templated. This is where the material is cut to size to fit the cabinets below, with cut-outs for hobs and sinks and any extra lengths for a breakfast bar or overhang. Some materials, ie laminate and wood can be cut at your home, so you can have your worktops fitted straight away while Silestone and Corian need to be templated and cut at the factory. This can take up to three weeks after the cupboards have been installed so it's important to keep this in mind when planning the use of your new kitchen.
SAMPLES
At AEH we have many samples of worktops for you to look at. We bring them to your home and can leave them with you to choose your favourites at your leisure.